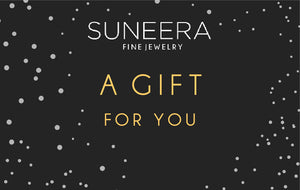 Virtual Gift Card
Regular price $500.00 Sale
Giving the gift of luxury couldn't be easier. Shop on www.suneera.com for fine gold with one-of-a-kind gemstones and diamonds or www.925suneera.com for our everyday sterling silver with diamonds collection. This gift card can be used at our online stores only.
Simple as 1, 2, 3:
1. Choose your value from the dropdown menu
2. Click the 'Add to bag' button
3. The gift card will be emailed to you within 48 hours.
You can forward your gift card code to a different recipient via email.
All items are handcrafted in our downtown Los Angeles studio. Please allow 2-3 weeks production time.